Nearshore
7 considerations for foreign enterprises when investing in Mexico
12/09/2023
Regarding foreign investments in Mexico, which have become a trend due to nearshoring, there are some crucial factors that every enterprise must consider when analyzing a relocation to the Latin American country.
Although nearshoring has led most foreign enterprises to establish in the country's northern region, areas such as the industrial park in the State of Mexico enable business due to their proximity to important cities, especially Mexico City.
For foreign companies, regardless of the region in which they plan to establish their operations, there are different factors they need to evaluate:
1.
Geographic location
A strategic location is vital for the industrial park in the State of Mexico, providing access to major transportation hubs. The northern Mexican states, which have highways connecting to the United States market and areas such as the Port of Veracruz, offer ideal locations for industrial development. Additionally, the Bajio region is well-connected to the rest of the country through essential railways.

A strategic position enables efficient distribution and access to national and international markets.
2.
Local workforce
A skilled and cost-effective labor force is essential for any industrial endeavor. Areas such as the State of Mexico, Monterrey, and Guanajuato boast a large pool of skilled workers, including engineers, technicians, and laborers, allowing them to meet the demands of various industries.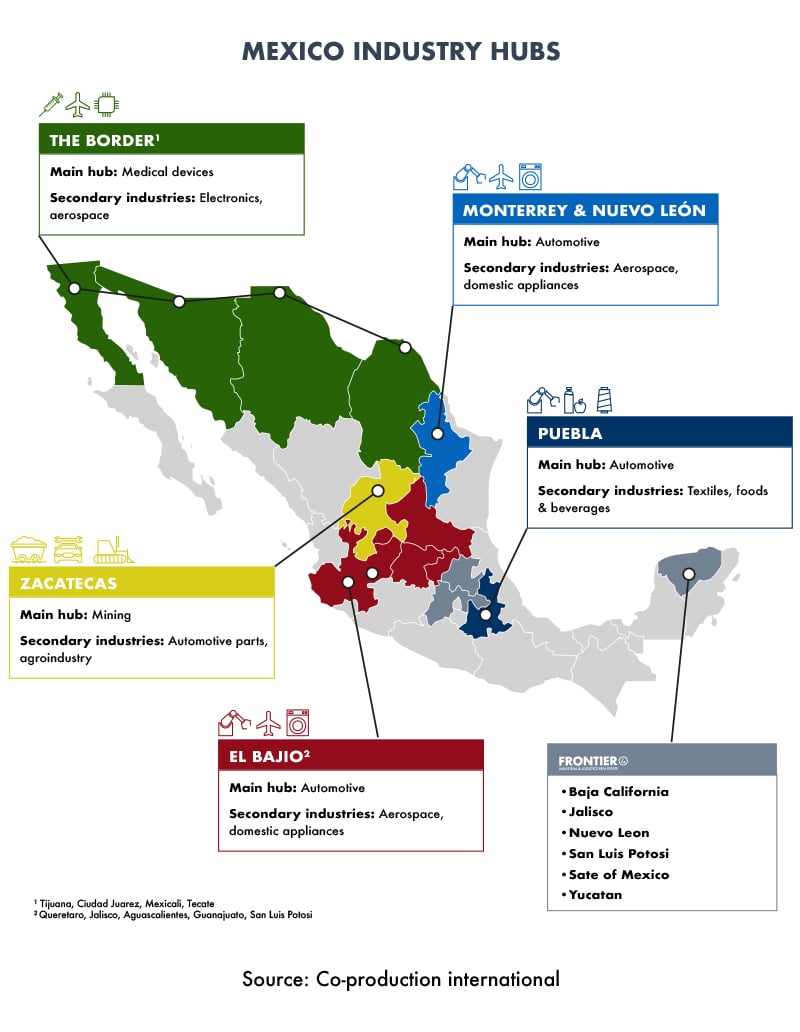 3. The rule of law and security
Safety and legal stability are crucial for investors, especially foreign investors who may not be familiar with the market. Providing a secure and safe environment for businesses has attracted foreign enterprises and investments to various regions in the country.
The strategic implementation of measures to ensure the rule of law is a key factor for local governments collaborating with federal authorities and private corporations to keep a safe operating environment.

4.
Infrastructure
Infrastructure is a critical factor to consider when investing in an industrial park. The State of Mexico serves as an example of significant investments in roads, highways, and logistics infrastructure to allow the movement of goods and raw materials, as in the Monterrey area.
This development ensures efficient transportation of products to domestic and international markets, which is crucial for foreign investors.
5.
Economic and social stability
Stability in the economic and social environment is essential for long-term success. The State of Mexico has a stable economy and a growing middle class, contributing to increased local consumption and market demand for various industries.
This stability also holds for various regions of the country, such as the Bajio region, and Guanajuato, Monterrey, Guadalajara, Puebla, Coahuila state, or Baja California.
6.
Fiscal incentives
Mexico offers various fiscal incentives to attract foreign investment, including tax breaks and customs benefits. There are also particular economic areas in regions that aim to enhance industrial activities.
7.
Space availability
It's essential to consider the availability of land and space within industrial parks. Various regions of the country offer a range of options tailored to different industries and needs. Carefully evaluating space requirements ensures the best situation for achieving business objectives.
Investing in Mexico and choosing an area such as the industrial park in the State of Mexico can be a strategic move for foreign companies. The region's geographic location, skilled workforce, commitment to security and legal stability, infrastructure development, economic and social stability, fiscal incentives, and space availability make it a compelling choice.
Frontier Industrial offers industrial land for sale and buildings for lease, providing high-quality infrastructure to foreign enterprises looking to invest in Mexico. If your company is considering establishing operations in the country, please get in touch with us for more information.