Global news
Electric cars: how is the automotive industry order changing?
4/04/2023
Electromobility is the latest advancement in the automotive industry, and it's expected to have the leading market share in a few years. That's why big assemblers have been developing their electric car programs and moving to new production schemes. However, it is also having an impact on the automotive market order.
Despite the dominion of the most well-known traditional car factories in the Western Hemisphere such as Daimler, General Motors, Ford, the Volkswagen Group, Stellantis, and BMW Group. that produce different automotive brands, and Asian quality companies such as Toyota, Nissan, and Hyundai, electrification is changing the global market, and some Chinese big assemblers are taking their place in other markets, although China's demand is extremely high.
Assembler groups and their brands
Stellantis:

Jeep, Chrysler, Dodge, Citroen, Fiat, Abarth, Opel, Vauxhall, Peugeot, Alfa Romeo, DS, Lancia, Maserati.

Daimler:

Mercedes-Benz, Mitsubishi FUSO, Freightliner, Western Star, Thomas Built Buses, Smart, Maybach.

General Motors:

Chevrolet, Buick, GMC, Cadillac, Baojun, Wuling Motors.

Ford:

Ford, Lincoln, Troller, FPV.

Volkswagen Group:

Volkswagen, Audi, Seat, Skoda, Porsche, Lamborghini, Bentley, Bugatti.

BMW Group: Mini, Rolls Royce, BMW.

Tata:

Tata, Land Rover, Jaguar.

Geely:

Geely, Volvo.

Hyundai:

Hyundai, KIA, Genesis.

Honda:

Acura, Honda.

Toyota:

Toyota, Daihatsu, Lexus.

Nissan:

Renault, Nissan, Infiniti, Mitsubishi, Alpine, Datsun, Lada, Dacia.

Suzuki:

Suzuki.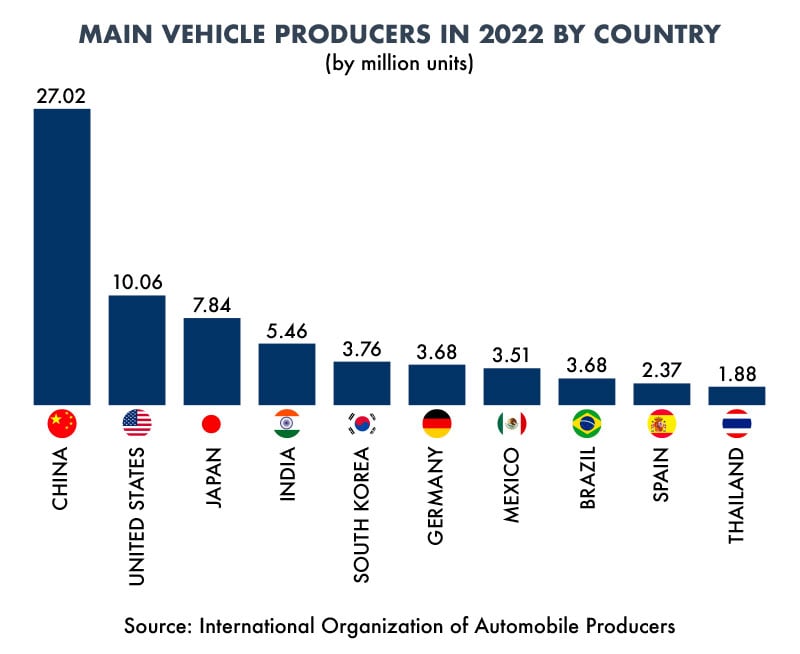 China was the primary vehicle producer in 2022, with 27.2 million units, more than the United States of America, Japan, and India combined. China's main vehicle manufacturers are SAIC Motor Company, Dongfeng, FAW, and Chang'an. There are other assemblers such as Geely, Beijing Automotive Group, Chery, Guangzhou Automobile Group, Great Wall, and Jianghuai (JAC), operating as assembler holdings for different brands.
The most important assemblers In China are establishing alliances with some well-known companies to increase their production. For example, the Volkswagen Group is working with SAIC Motor Company to develop electric vehicles in China after several years of traditional car production.
Lithium, a key to dominion
Chinese brands and other Asian automotive companies like Tata in India seek alliances to compete in different countries. The market is also receiving new competitors from well-known places, with Tesla as one of the most recently founded brands, but already investing in new areas. One of them is Mexico, a country looking to take advantage of the lithium reserves in Chihuahua.
India has recently discovered a large lithium reserve, too, and is planning to use it to take an important place among the world's biggest electric vehicle producers.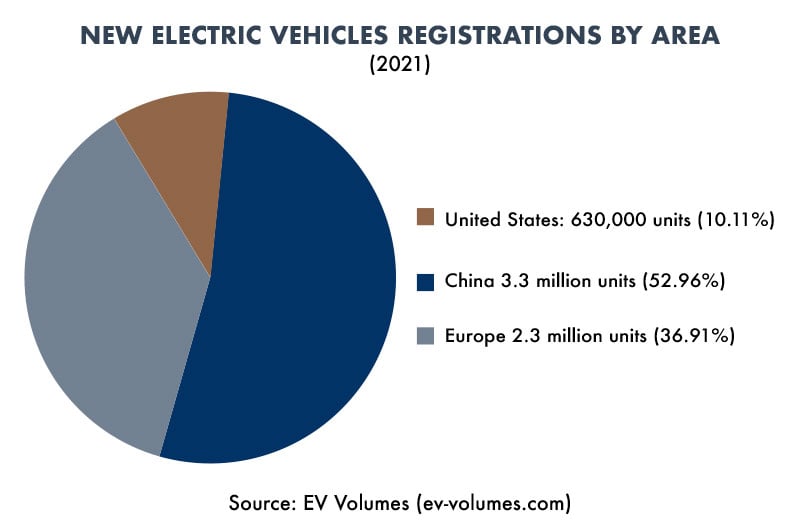 Lithium is set to be a critical factor in the future of the world's automotive industry. It is used as an essential element for producing the batteries needed to make electric vehicles.
The automotive industry operates on a scheme where factories are located near providers' operations centers, giving rise to automotive clusters such as the one in Bajio, Mexico, where Tier 1, Tier 2, and Tier 3 providers send parts and raw materials from industrial parks in Guanajuato, and from Sonora and Chihuahua regions.
Asian and European brands have found a way to increase their production and enter Western markets through Mexico. The recent trend of electrification is also causing Chinese factories to start investing in new markets, and their proven capacity for assembling a high quantity of vehicles gives them a chance to change the global dynamic of the industry.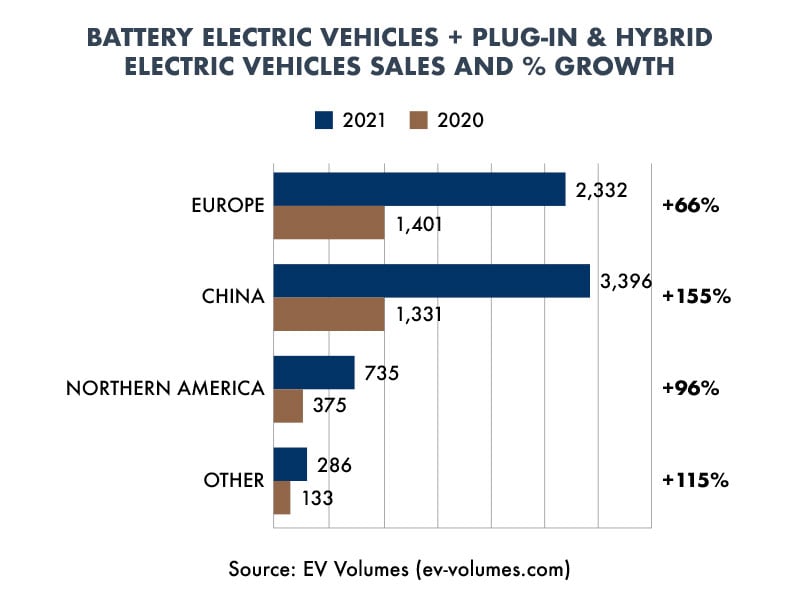 Frontier Industrial develops industrial parks and buildings in main industrial areas in Mexico, such as the industrial park in Guanajuato for different activities, including logistics and manufacturing. Contact us if you want shovel-ready industrial land or buildings for rent. We also help foreign investors develop Build-to-Suit projects.