In recent years, there has been a surge in demand for industrial spaces in Mexico. This increase can be attributed to the effects of the Covid-19 Global Pandemic, which led to closures in many countries and disruptions in supply chain operations. The changing dynamics of logistics and supply chains have led to a new model where customers prefer the convenience of having their products delivered to their homes.
It also influences warehouses and distribution centers, especially near big cities. There, the products are supposed to be saved for a short period of time, but right now this time has reduced even more, considering the needs of the customers. That's why warehouses and distribution centers need to improve their operation schemes.
Industrial parks in Mexico have the opportunity for increasing their activities, considering logistics importance and nearshoring. To do so, logistics operators must look for ways to respond faster to customers and retailers. We can mention the basic facts for a flow scheme in warehouses, which can help to improve the activities in these areas.
Considering that every article that arrives at a warehouse must go out at some moment, there are some factors to consider for the materials' flow:
Internal operations.

Quantity of products.

The way materials are moved.
Flow types for a warehouse
"Flow" is the name for the movements realized for entering products into the storage areas, inside the warehouses, and taking orders out. There are three basic models for this:
Simple flow
It's the easier way to move products in the warehouses. It occurs when the same load units the supplier sends are processed and forwarded without fractioning.

Medium flow
This process is usually observed in warehouses with straightforward picking operations. Specifically, it is common when complete pallets are supplied.

Complex flow
It occurs in warehouses with different work areas for different products. These installations usually have intermediate areas for manipulating materials and might need separate spaces for complex dispatch of orders.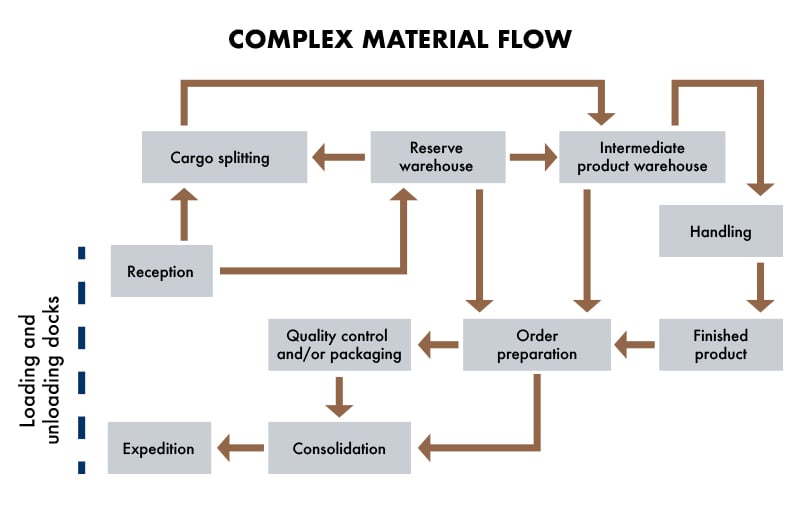 Every step added to the process in a warehouse increases the cost of the operations. The size of the building can influence the maintenance payments for machinery and workforce, but there are also some additional details that logistics companies must consider.
What logistics companies need to pay attention
There are some factors logistics companies and distribution centers operators must take care for improving their activities, such as:
Location
For big distribution centers, it's an advantage to be located within a range of 30 km or more from the cities; for cross-docking installations, the distance should reduce (for working as suppliers for the final sale and distribution points), but for proximity logistics warehouses it's better to be in the cities.
Surface
Big distribution centers usually have a surface of 25,000 m2 or more, with a height of 15 meters; cross-docking platforms have usually a height of 8 meters and 8,000-13,000 m2 surface; for proximity installations, the standard height is about 3 meters, and the surface is usually from 1,000 to 3,000 m2.
Proximity or last-mile warehouses must have direct access to roads, so their operations can occur fastest.
Frontier Industrial offers buildings in industrial parks in Mexico, with installations in the main industrial regions of the country, and shovel-ready industrial land for sale. Contact us to see availability or develop your project.