Mexican industry
Mexican industrial hubs grow as a result of nearshoring
19/09/2023
Mexico's industrial landscape has undergone a remarkable transformation, recently boosted by nearshoring and the relentless growth of various sectors. While some regions, like the industrial park in Hidalgo, thrive due to their proximity to densely populated areas, it's essential to highlight the industrial hubs that define the country's manufacturing prowess.
In this exploration, we delve into the evolving narrative of Mexico's industrial hubs, focusing on the impact of nearshoring. We'll traverse the diverse industrial ecosystems contributing to Mexico's manufacturing and innovation standing.
The automotive industry in Mexico: a driving force
The automotive sector in Mexico, a true juggernaut, has paved the way for the country's industrial prominence. Exporting a staggering 79% of its production to the United States is a formidable force. The industry's roots trace back almost a century when pioneers like Buick, Ford, and General Motors established themselves here.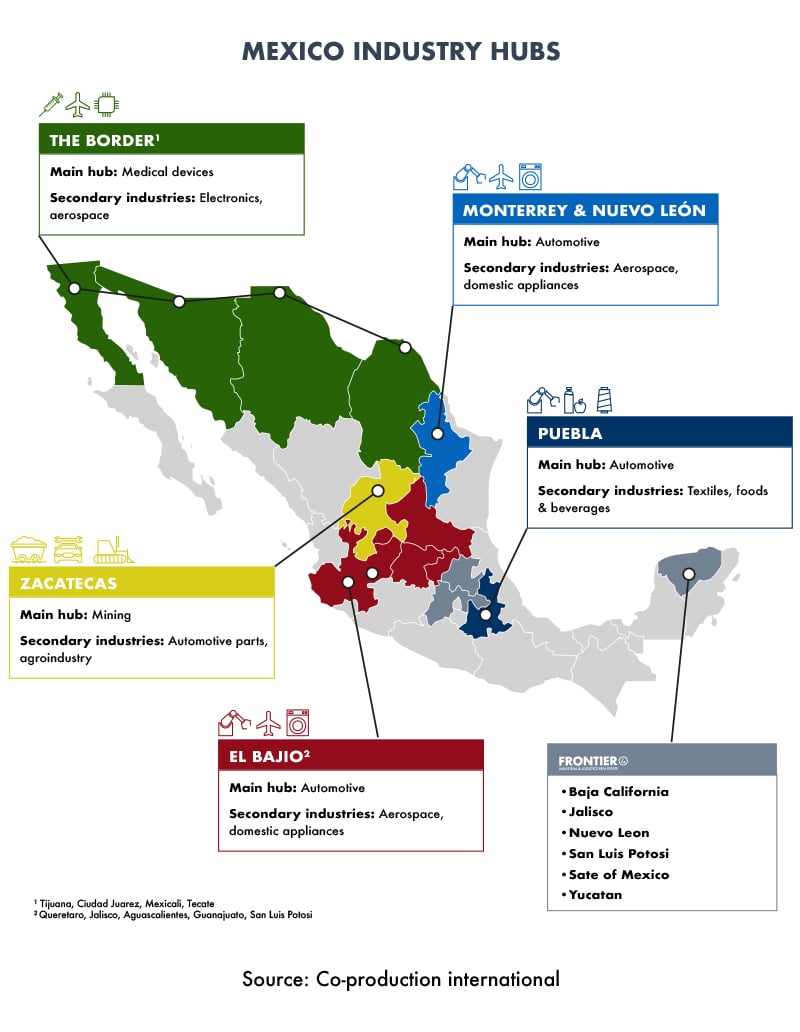 Mexico's industrial landscape diversification
Although automobile manufacturing has boosted national industries, Mexico's industrial story goes beyond the automotive sector. Across the nation, various regions have become magnets for diverse activities, creating clusters in specific areas.
Tijuana and Baja California: a hub of innovation
In the northern regions of Tijuana and Baja California, innovation thrives. This area is renowned for producing medical devices, pharmaceuticals, cutting-edge technology, and aerospace components. Industrial parks aren't just physical spaces; they're innovation hubs propelling progress.
Mexico's northern border of Mexico has also served as an essential light-manufacture node that brings access to the United States market through lower workforce prices than in Asian countries and fast delivery supply chains in a similar time zone. The agreements for taxes and import tariffs are essential for this area.
Zacatecas: unearthing riches
Zacatecas, steeped in mining heritage, remains a stronghold for the mining industry. But it doesn't stop there. The region also boasts a thriving agro-industrial sector and a robust industry for auto parts manufacturing. It's a testament to the region's adaptability and diversity.
The production of different minerals, such as silver, gold, copper, lead, and barite, remained an important activity for the state since the colonial era.

Manufacturing industry, energy transformation, agriculture, and livestock farming are other activities that complement the spectrum of income sources for the state, as well as tourism and health services.
El Bajío: where automotive excellence meets aerospace advancement
El Bajío, often called Mexico's automotive heartland, is home to a cluster of automotive manufacturing giants. But it doesn't end there. The region also serves as a hub for aerospace innovation and the production of household appliances. Here, industrial parks epitomize versatility.
In this area, Guanajuato is a state that has evolved into a logistics node due to the railways that connect it to various regions of Mexico that receive components for automotive manufacturing. San Luis Potosí, Aguascalientes, the State of Mexico, and even Puebla receive tier-1 components manufactured in Guanajuato and transported by the trains in the region.
San Luis Potosí and Aguascalientes use the same transportation network to boost automotive assemblers' activities. In these states, there are factories of different brands, such as Nissan and BMW.
Querétaro's advances are related to the aerospace industry. In the state, there are operations of tier-1 providers that serve as suppliers for different manufacturers, such as Airbus or Alstom (Bombardier). There are also IT enterprises working on data centers.
Monterrey and Nuevo León: the industrial powerhouse
Monterrey and Nuevo León, renowned for their industrial might, play a pivotal role in Mexico's automotive sector. Their influence extends to aerospace and household appliances as well. In these regions, industrial parks are the driving force behind a dynamic industrial ecosystem.
Tesla, KIA, and Hyundai have production facilities in this state, and Whirlpool, LG, and different electronic devices and household appliances providers. The region has been an industrial node, with steel production and food and beverage industries for decades.
Puebla: where tradition meets innovation
Puebla's industrial landscape mirrors its rich cultural heritage. While it's a hub for automotive manufacturing, it also boasts a thriving textile industry and a robust food and beverage production sector.
Automotive production has been an important activity there since the middle 1950s decade, held by the manufacturing tradition in the area.
Industrial park in Hidalgo: a strategic hub
Nestled within this rich tapestry of Mexico's industrial diversity is the Industrial Park in Hidalgo. Located near Mexico City, it enjoys a strategic advantage in logistics. Its proximity to the nation's capital opens a world of efficient transportation and distribution opportunities.
This industrial park caters to various sectors, including manufacturing, food production, and the chemical-pharmaceutical industry. It has become a sought-after destination for businesses leveraging its strategic advantages.
Hidalgo's industrial landscape mirrors other areas in the country, such as Toluca in the State of Mexico and other towns of this entity, which also serves as a logistics and distribution hub while attracting automotive assemblers and technology industries.
Nearshoring's trend has boosted various industrial activities and different areas of Mexico, such as automotive manufacturing, electronic devices, and home appliances production. However, in some of these areas, the activities started decades before.
This enhancement can drive the consolidation of the activities in various industrial clusters and the need for improving infrastructure in different regions. Still, it also can move to a new stage in the Mexican industry perspective.
Frontier Industrial provides industrial land for sale and buildings for lease in Mexico's most essential and growing areas, such as the industrial park in Hidalgo. If your company is looking to relocate operations to take advantage of the nearshoring trend abroad in the United States market, please contact us for more information.