Mexican industry
Nearshoring boosts industrial spaces demand in new areas of Mexico
6/06/2023
The increase in nearshoring to Mexico activities has led to a recent surge in demand for industrial spaces, reaching record levels in northern regions such as Monterrey, Chihuahua, and Saltillo. The rising demand has also spread to other areas due to the limited availability of vacant infrastructure.
According to the report "Nearshoring in Mexico: Demand in the Industrial Real Estate Market (Year-end 2022/Q1 2023)" by CBRE, the current vacancy rate is below 2% in northern locations, including Tijuana (0.4%), Ciudad Juarez (0%), Saltillo (1.7%), and Reynosa (0.6%).
Guadalajara stands out as the area with the highest demand for industrial spaces due to nearshoring, accounting for 47% of the total related to this trend, with over 829,000 square feet occupied by activities associated with nearshoring, according to the report.
Monterrey and Saltillo, with 30% and 16% of nearshoring-driven occupancy, respectively, remain the most active markets in the country's northern area due to this trend.
The figures indicate that the effects of the relocation of foreign companies seeking new territories for their operations are starting to be seen in the central area of Mexico.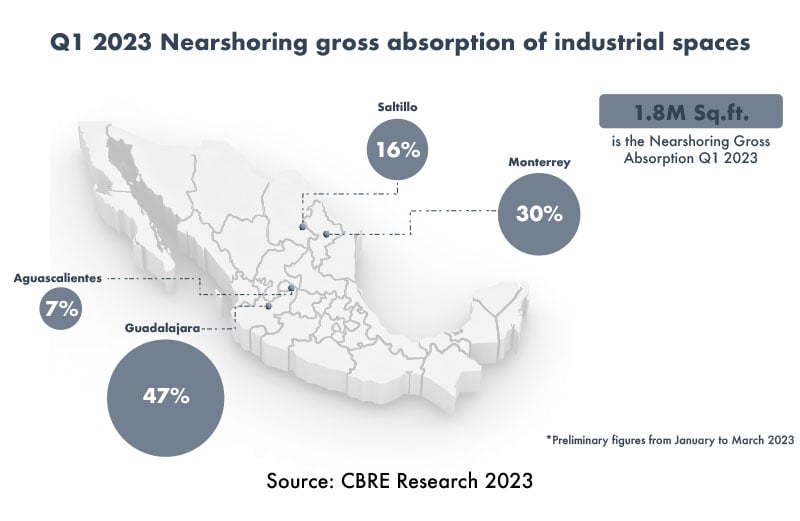 Demand Sustains Record Figures for the Industrial Sector
2022 closed with historical demand figures in the Mexican industrial market, surpassing 60 million square feet of gross absorption, with over 40 million square feet in net absorption. The consultancy firm anticipates that this trend will continue and occupancy will remain similar throughout 2023.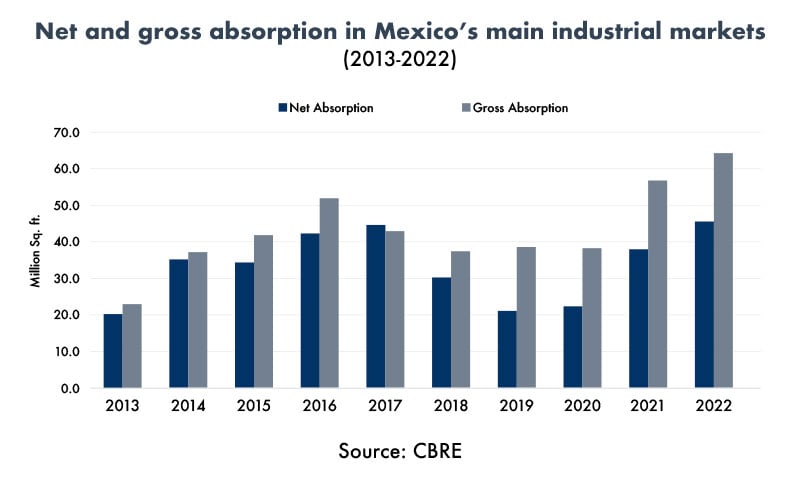 Regarding absorption related to nearshoring, in 2022, approximately 16.5 million square feet were occupied, more than double the 7.9 million square feet from the previous year. During the first 4 months of 2023, the figure indicated in the report is 1.8 million square feet.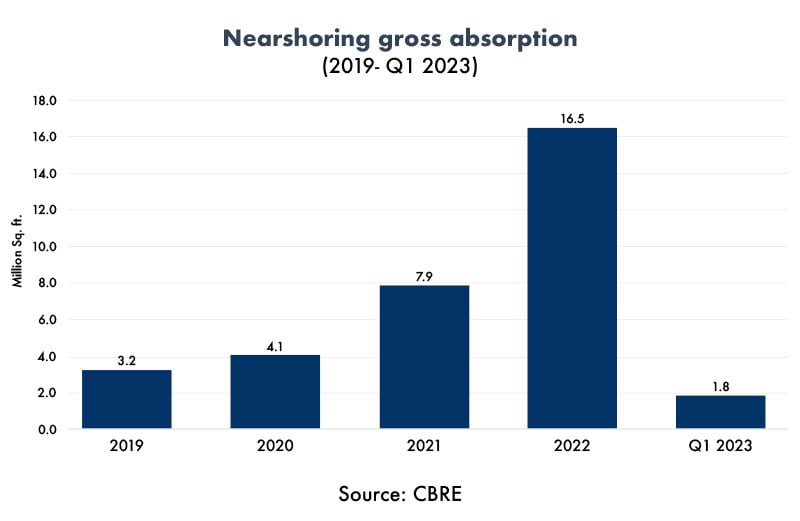 Electronics and automobiles, key sectors
The production of appliances and electronic devices was the driving force behind nearshoring activities in the country during the first 4 months of the year, encompassing all the spaces occupied by nearshoring in Guadalajara and 55% of the areas demanded by this trend in Saltillo.
In Aguascalientes, nearshoring demand was driven 100% by the automotive industry, while in Monterrey, the production of construction machinery accounted for 40% of the space used due to this dynamic, according to CBRE.
The consultancy anticipates that electronic devices, automobile production, and machinery manufacturing will continue to be the main activities driven by nearshoring in the country. In 2022, these activities were complemented by furniture production, the high-tech sector, the pharmaceutical industry, and textile production.
Frontier Industrial offers industrial land for sale and industrial warehouses for rent, with the possibility of developing tailor-made projects in the country's most important industrial zones in the framework of nearshoring to Mexico. If your company is about to start operations in Mexico, do not hesitate to contact our advisors and learn about our industrial land for sale and industrial buildings for lease availability.